D
itengah-tengah bentrokan sengit di Kairo, sejumlah laporan-laporan dan gambar-gambar mencuat, gereja-gereja yang

telah diserang dan dibakar di berbagai tempat di negeri

tersebut, demikian dilansir oleh laman The Washington Post.

A member of the Egyptian security forces and a woman at one of the sit-ins Wednesday.

AP Photo/Imad Abdul Rahman


Situs berita Mesir Mada Masr memberitakan detail kejadian:

"Di Sohag [ sebuah kota

tepi barat

Sungai Nil, 245 mil

selatan Kairo], Bishop

Gereja Mar Girgis, Moussa Ibrahim

mengatakan kepada Mada Masr bahwa gereja telah dibakar oleh para pendukung

Muslim Brotherhood pada pukul 9:30 pagi saat

kekuatan-kekuatan polisi tidak ada, meskipun telah terjadi ancaman-ancaman yang berulang terhadap gereja.



Gereja terbesar di

kawasan tersebut, Mar Girgis terletak di Thakafa Square dekat dengan basis Brotherhood. Tiga gereja kecil lainnya juga

telah diserang di Sohag namun Ibrahim tidak dapat mengkonfirmasikan sejauh mana

kerusakan yang terjadi.



Seorang

jemaat Koptik yang bermukim

tak

jauh dari gereja tersebut mengatakan kepada Mada Masr bahwa toko-toko yang dimiliki jemaat gereja Koptik dan

umat Islam yang ada di depan gereja telah dihancurkan. Tembak menembak terdengar di area

tersebut kala warga mulai membentuk komite-komite popular."



Sementara itu Al –Jazzera

telah

menampilkan

gambar ini di Twitter,

sebuah gereja setelah

mengalami serangan dan dibakar di Sohag."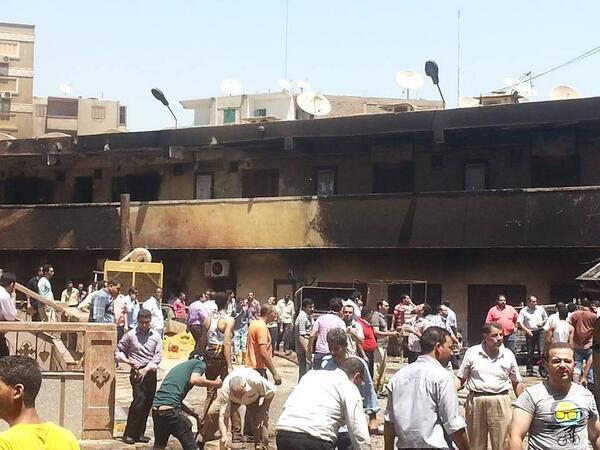 Photos from Sohag where a church has been attacked and burned



Ini adalah gereja Koptik utama di Sohag, Gereja St. George yang telah dihancurkan.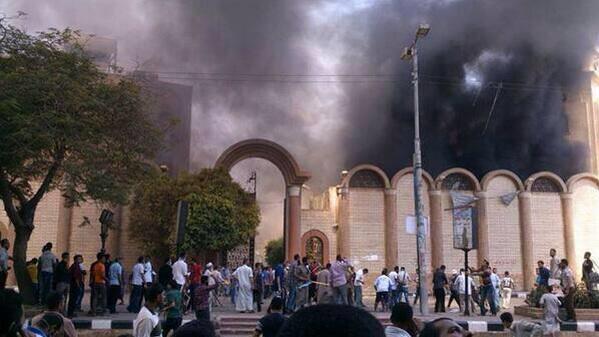 Main Coptic church in Sohag in Upper #Egypt, Church of St George, destroyed



Menteri Dalam Negeri Mesir,

Mohammed Ibrahim dilansir oleh Aljazeera.com

menyatakan bahwa para pendukung Morsi telah menyerang

21

kantor polisi dan tujuh gereja Kristen Koptik diseluruh negeri tersebut pada hari

Rabu.

CNN posted video of correspondent Arwa Damon ducking from gunfire as she covers clashes.

Para pendukung

presiden Mesir Mohammed Morsi, marah atas sebuah aksi pembubaran paksa

terhadap

masa

pengunjuk

rasa di Kairo, yang telah mengakibatkan bentrokan

dengan

aparat keamanan di sejumlah propinsi

selain ibu kota.


Menteri Kesehatan mengatakan bahwa 278 orang telah tewas diseluruh negeri sebagai korban peristiwa

kekerasan pada Rabu

dan 2.001 lainnya

mengami luka-luka.


Jumlah korban terbesar diberitakan
di provinsi Minya, Selatan Kairo, dimana Menteri Kesehatan secara
resmi mengatakan 41 orang telah
tewas .
Enam diantaranya adalah polisi, ujar Mohamed Abdo,kepala departemen Ambulan.
Di
tempat lain, kantor berita
Reuters
mengutip sumber-sumber
medis yang mengatakan bahwa 15 orang telah terbunuh di Ismailia dalam bentrokan antara para pendukung Morsi dan polisi.
Kementerian Kesehatan mengatakan 35 orang juga telah terbunuh
di Fayoum,
barat daya Kairo, dalam bentrok dengan
aparat keamanan.
Lima orang lainnya telah terbunuh di Suez setelah para pemrotes berupaya menyerbu sebuah kantor pemerintah provinsi.

Kementerian Dalam Negeri

juga mengatakan bahwa sejumlah mobil polisi telah dibakar di Beni Suef, sebuah provinsi di selatan Kairo, dan para pemrotes juga telah membakar

kantor pengadilan.


A police vehicle is pushed off of the 6th of October bridge by protesters close to the largest sit-in by supporters of ousted President Mohammed Morsi Wednesday.




AP Photo/Sabry Khaled, El Shorouk Newspaper


Aparat polisi telah menembakan gas air mata di

Delta Nil provinsi Sharqiya dalam bentrok dengan para pemrotes di luar sebuah mesjid,



Di Aswan,

selatan Mesir, ratusan demonstran pro Morsi telah menyerang kantor-kantor pemerintah setempat,melempari batu-batu dan berupaya untuk mendobrak masuk, menurut media lokal setempat.



Juga telah terjadi sebuah upaya besar retorika sekterian yang diarahkan pada jemaat Kristen Mesir dalam minggu-minggu belakangan ini selama protes-protes pro Morsi, yang

menyebabkan sejumlah insiden pembakaran

gereja-gereja dan

usaha-usaha bisnis milik orang Kristen telah diserang.


Mohammed Morsi supporters clash with security forces -




AP Photo/Mohammed Abu Zeid


Kementerian Kesehatan menyatakan sedikitnya 10 orang telah terbunuh dalam kekerasan di Aleksandria.

Ratusan pendukung Morsi yang marah bergerak melalui

kota kedua Mesir, menimbulkan kerusuhan dan dipersenjatai dengan

tongkat-tongkat kayu, lapor seorang reporter AFP.

Morsi supporters run from Egyptian security forces firing towards them during clashes in Cairo.-




AP Photo/Manu Brabo



Sambil meneriakan "Morsi adalah presidenku" para pemrotes membakar ban-ban mobil dan

merobek

gambar Jenderal Abdel

Fattah

al-Sisi, pemimpin militer yang berada dibalik penggulingan Morsi pada

3 Juli lalu.


Di distrik Ibrahimiya,mereka menyerbu sebuah kantor polisi dan mencuri

furnitur dan perlengkapan kantor didalamnya, lapor seorang reporter AFP.


The smaller of the two sit-in camps.-




AP Photo/Imad Abdul Rahman


Sebelumnya, di bagian lain di Aleksandria,

tabung-tabung

gas air mata menghujani

masa pro Morsi yang bergerak di kawasan Sharq, ditengah-tengah

desingan peluru senjata otomatis.


Ratusan

loyalis Morsi telah bergerak melalui kota tersebut ketika

polisi menembakan gas air mata untuk membubarkan mereka.

A make shift morgue after Egyptian security forces stormed two huge protest camps.-

MOSAAB EL-SHAMY/AFP/Getty Images



Warga setempat, melengkapi diri dengan

tongkat-tongkat pemukul, keluar dari rumah-rumah

dan took-toko mereka untuk

menolong polisi, menangkapi

para pendukung Morsi dan

menyerahkan mereka ke kantor Polisi di Sharq.


Morsi supporters capture an Egyptian security forces vehicle at the Ministry of Finance in Cairo-




AP Photo/Mohsen Nabil



Para pendukung

Morsi,

membawa bendera-bendera Mesir dan gambar-gambar para pemimpin yang telah dimakzulkan,

kemudian bentrok dengan lawan mereka

di sebuah jalan yang dipenuhi dengan batu-batu.



VIDEO : Bentrokan Di Mesir


Martin Simamora| The Washington Post| Aljazeera|